Search engine optimization is a complex process that requires near constant attention. To effectively direct and increase the amount of search engine traffic to your site, you need tools that help you quickly and easily target and manage keywords, track rankings, and analyze and optimize your site for high-performance results.
CommonSpot 10.0 fits the bill with a rich set of SEO features, including an easy-to-use, intuitive dashboard for optimizing web content; a built-in SERP (Search Engine Results Page) for keyword tracking and competitive analysis; custom SEO rules capabilities; and in-context help offering editors valuable SEO tips and best practices. With CommonSpot's SEO capabilities, you can: 
Enforce your SEO policy by creating rules that warn editors when page content is not fully optimized for targeted keywords. Optionally require editors to meet rules before pages can be published. 

Schedule search engine queries to track keyword rankings on a regular basis (weekly, monthly, etc.). Archive historical rankings and view reports showing how rankings change over time. 

Review performance reports for all targeted keywords: view rank positions, pages targeted, top scores, etc.  You can also track competitor keyword rankings and compare performance to your own.   

Find and add new keywords in one click using our Keyword Suggestion tool.

View a list of pages targeted for specific keywords and get an overall page performance grade to quickly diagnose and fix underperforming content.

View a report of pages ranking high for specific keywords that have not yet been targeted so you can target them appropriately and improve results.

View the last date and time Google and Bing indexed your page, and compare that with recent change history and rank results to gain insight into why your ranking changed. 

Pull inbound link reports to determine which websites and web pages are driving links to your site. 

Get in-context help on how to optimize any SEO field

And more!
---
Screen Shots
Review search engine stats for any page at any time from the SEO dashboard.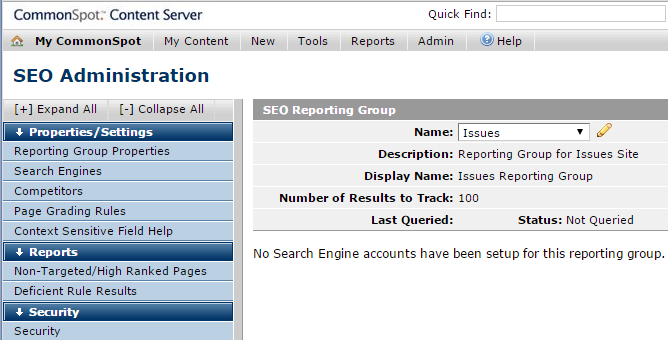 List of Page Grading Rules to assist in building a better website for search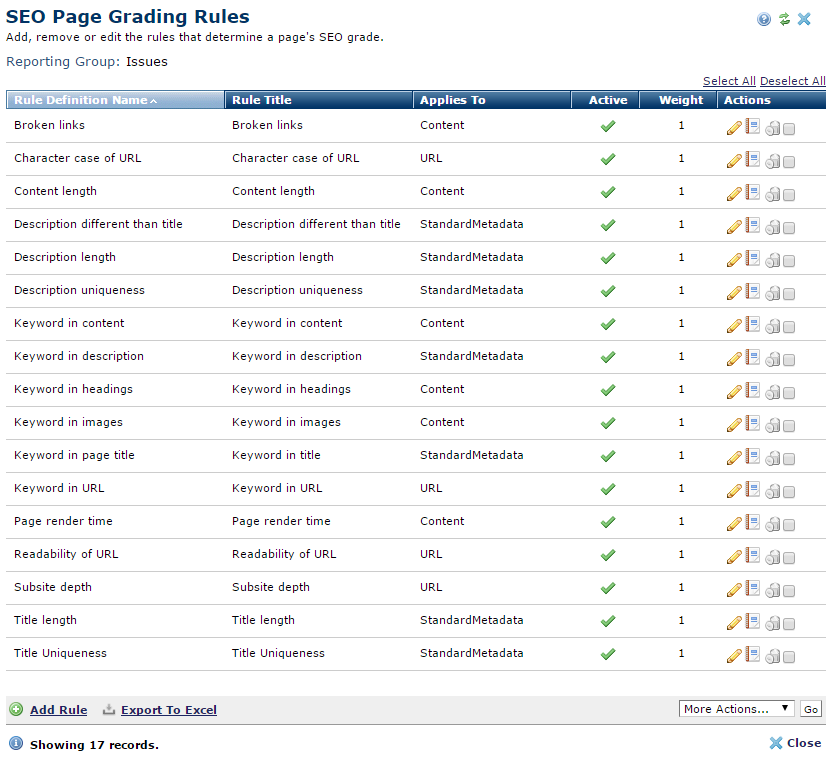 Non-Targeted High Ranked Pages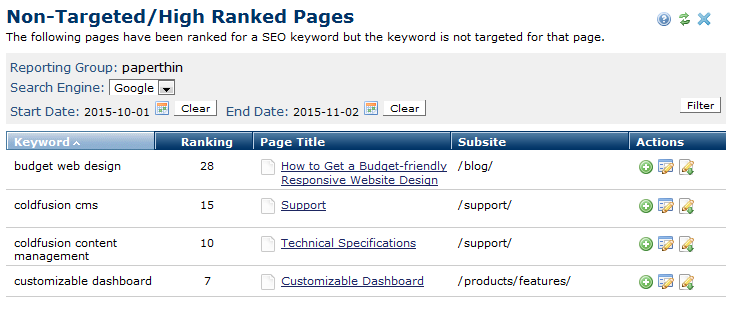 Report of SEO Event History