There is far more to site search than meets the eye. When relevant and tailored to a site visitor's query, search results minimize bounce rates, increase conversions, help with customer self-service, create positive web experiences, and foster trust in your brand. Search analytics can give you valuable insight into what matters to site visitors, helping to inform your content strategy and drive better results. Simply put, getting site search right is of critical importance.
CommonSpot's powerful Site Search feature helps you create and manage full-text search collections, create targeted internal search and search results pages, generate featured result listings, and analyze search queries to improve results. It's an essential tool in your Web content management toolkit.
Create and add search forms to one or more pages on your site giving you the option to display site-wide or subsite-specific search results.
Manage search collections from a central dashboard and easily re-index, optimize, and add new collections on the fly.
Deliver targeted or 'Featured' search results by binding pages to specific keywords effectively eliminating the 'no returned results' problem that increases bounce rates. Easily control the number and placement of featured results.
View which keywords or keyword terms visitors searched for and the results they clicked on using Site Search analytics. Store historical keyword search results by day, month, or year and view detailed analytics reports giving you valuable insight that can be leveraged to improve experiences and results.
Track page clicks by search term or phrase to discover and highlight 'Popular pages'.
---
Screen Shots
Site Search section in Site Administration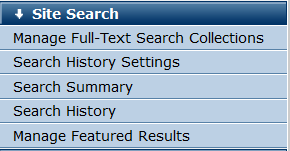 Managed Featured Search Results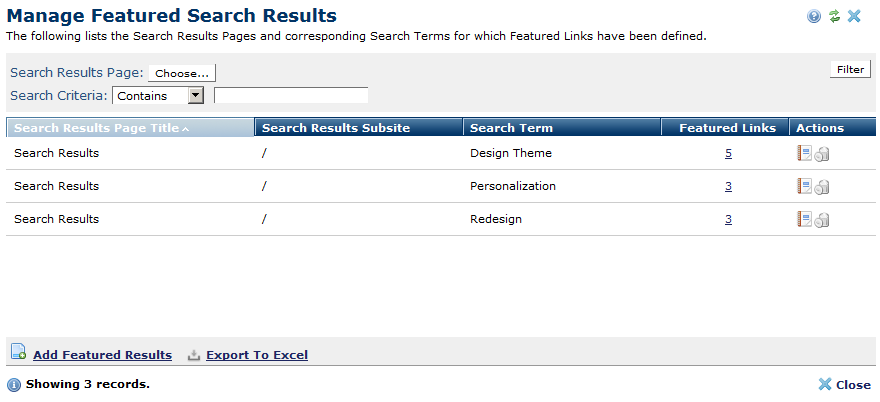 Search Summary Analytics