YouTube is a free and easy way to add compelling video content to your website, but tracking and organizing distributed embed code can be confusing, cumbersome, and inflexible. It's much better to work with your video library and player settings exactly where you need them, directly within the CMS. 
With CommonSpot, you can manage multimedia content hosted by reliable industry leaders like YouTube exactly like you manage all of your other documents and files. CommonSpot's seamless YouTube integration lets you take advantage of the expertise and hosting capacity of this popular service, minus the headache of managing code and media servers. Contributors have instant point-and-click access to YouTube-hosted collections for improved quality, reliability, and efficiency. CommonSpot handles all the details of library and player access, management, security, and reporting.
Point and click to seamlessly integrate and publish YouTube content while working in CommonSpot.
Find, choose, and insert YouTube video through a familiar, easy-to-use search interface.
Use all of CommonSpot's most powerful features features — metadata, page indexes, custom element applications, and more — to easily organize YouTube-hosted content and control security.
Use built-in features to simplify import of your existing YouTube collections.
Automatically select compatible players based on multimedia type, or customize players and modify settings for your specific needs.
Easily manage video assets with personalized My Multimedia and administrative dashboards that include usage and referring page reports.
---
Screen Shots
Easily view and manage YouTube-hosted video collections in CommonSpot.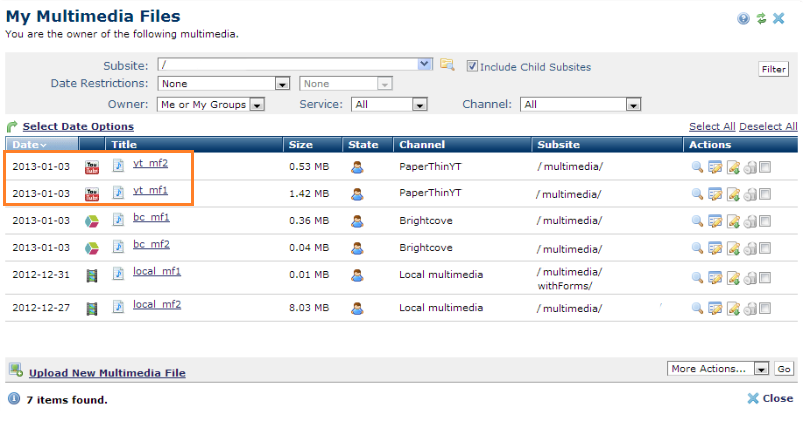 You can mouseover to preview YouTube content and file details from My CommonSpot and other reports.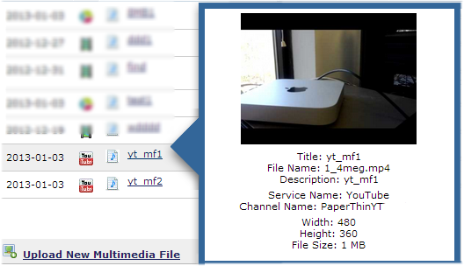 CommonSpot automatically returns players compatible with the type of multimedia you choose for your pages. You can preview players and optionally change settings.