Anyone with a browser can work in CommonSpot. It is a 100% browser-based web application built on Java and the Adobe ColdFusion/Railo-Lucee CFML application server. There is no client software to install or maintain, making it easy to distribute content management rights across, or outside of, your organization. Organizations can use their browser of choice. CommonSpot is regularly tested and updated for reliability and compatibility with the most popular web browsers.
Content creators and approvers work directly within the context of the page, no need to switch gears between online and offline activities. Authors, editors, designers, and reviewers simply navigate to each page to create, change, or approve. Commonly understood icons, sliders, and dynamic Ajax controls and dialogs guide each user through the process of creating, publishing, and managing content, all tailored to the role and privileges of the individual. All administrative tasks are browser-based, too. The net effect is a dynamic, collaborative content generation environment that significantly cuts production cycles and publication time to make your team more productive and your site more effective.
Use 100% browser-based CMS technology to create and publish anywhere.
Reliably and securely distribute content management tasks to authors, editors, designers, and approvers, within or outside of your organization.
Easily use powerful knowledge-sharing and discovery tools for Internet, intranet, and extranet site development using the browser of your choice
Create with Chrome, Firefox, Internet Explorer or Chrome on Linux, Unix, Windows or Mac platforms.
Browser-based administration reduces bottlenecks and improves productivity.
Regular and thorough testing on the latest version of popular browsers ensures reliability.
---
Screen Shots
Sites can author directly within the web page, using their browser of choice.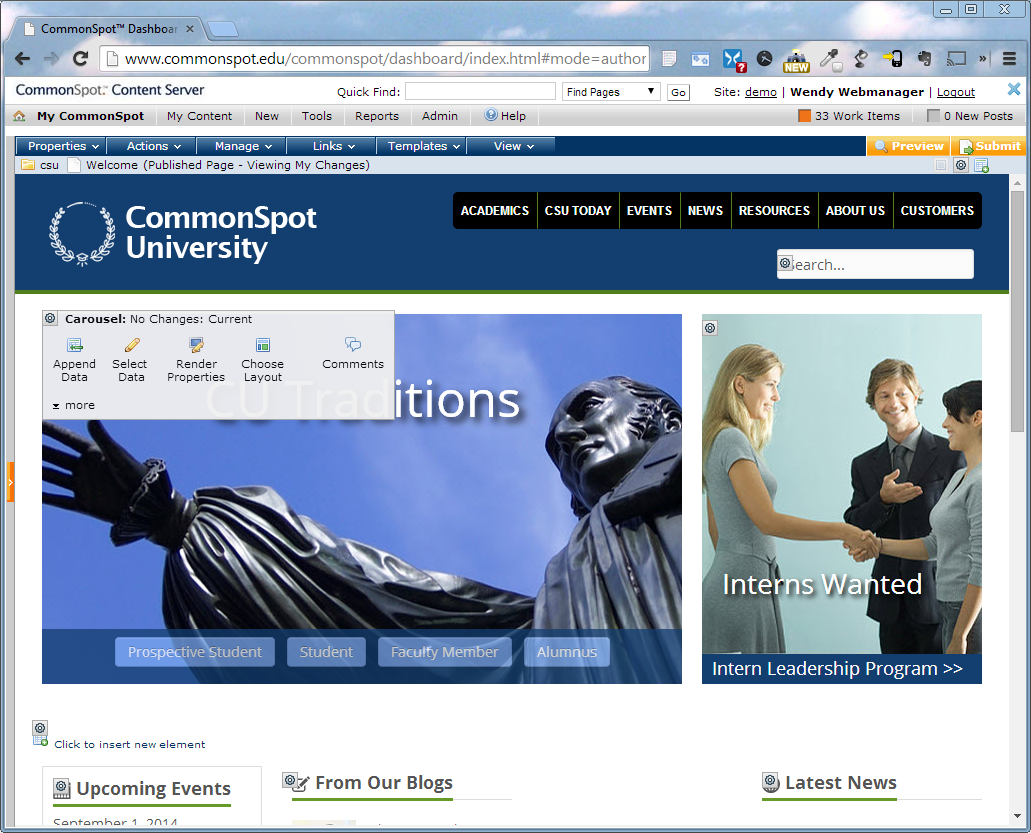 CommonSpot takes care of all the details of browser compatibility for reliable authoring and editing on any platform.