Sometimes what comes standard isn't exactly what you need. In addition to more than a dozen out-of-the-box field types, CommonSpot makes it easy to create your own to use in simple forms, metadata forms, and custom content objects. This extensibility gives developers the power to create rich custom interfaces to meet the needs of any site. Build custom input controls as complex as a Rich Text Editor or as simple as a text input control. Use jQuery or another JavaScript library to connect content object fields, or create custom interfaces to make it easy for team members to interact with non-CommonSpot data.
Once you create and register custom field types they display just like other CommonSpot fields to simplify selection, production, and management.
Easily create new fields for rich custom interfaces and data integration.
Point and click to create or import custom fields.
Completely control look and feel and functionality
Use any existing CommonSpot property module or specify custom scripts to prompt for properties.
Register and use custom fields just like any other standard field.
Lock down field types or make them accessible for modification.
Centrally manage custom fields with all other CommonSpot fields.
---
Screen Shots
CommonSpot includes easy-to-use tools and support for creating or importing custom fields.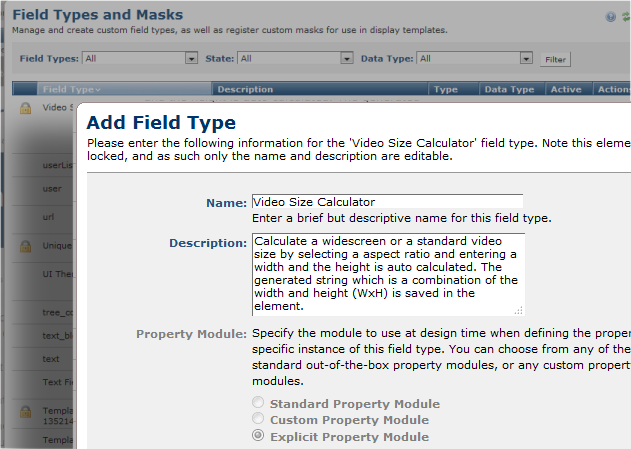 Once you create and register custom fields, choose and manage them just like any other field type in CommonSpot.