'My CommonSpot' is a personalized and customizable dashboard of content, searches, shortcuts, reminders and more that dramatically improves productivity for users at every desk. Save time by creating favorites and sharing them with team members. View both your own and your groups' activities for better collaboration. Post to social media outlets and centrally manage communications - all from one central location for greater productivity.
Conveniently view approvals, notifications, reminders, work requests, and more in one place.
Get at-a-glance "My Content" status, including one-click Visual Difference for comparing page versions
Quickly view, run, create, and share Shortcuts and Saved Searches.
Point and click to manage social media communications.
Customize views at the individual or site level.
Easily add new custom sections through CommonSpot or create programmatically.
---
Screen Shots
A personalized 'My CommonSpot' dashboard presents a complete view of published pages, works in progress, unpublished content, important tasks/activities, and more.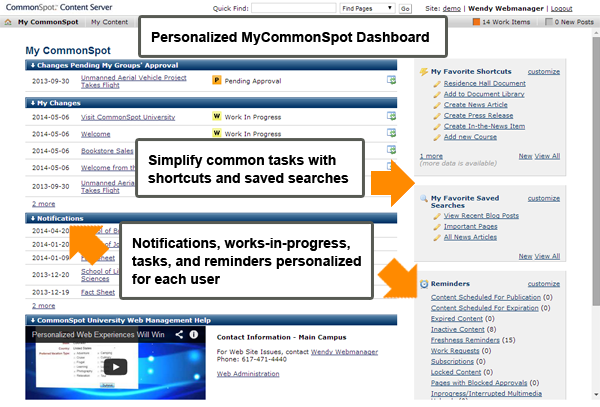 Point and click to change order or show/hide sections. Administrators can set site-wide defaults and add security to panels.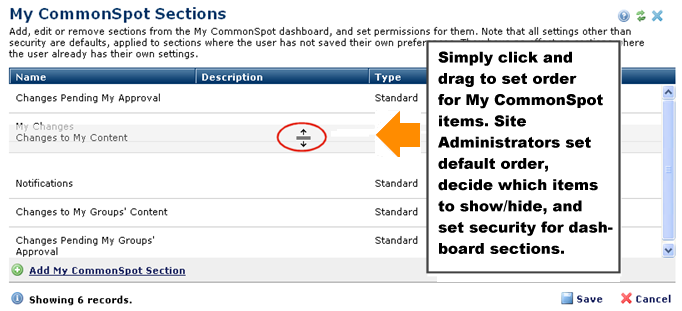 Use out-of-the box features to easily add custom dashboard sections to My CommonSpot. Developers can extend standard options through well-documented functions.