The idea of personalizing content to engage site visitors has been around for a while. Companies that personalize content to site visitors see an average 19% lift in sales. Knowing that however, an astonishing 6% of marketers today are implementing personalization strategies. Why you ask? Personalization is often viewed as complex and difficult to implement.  With CommonSpot, that couldn't be further from the truth.
When you know your audience, and they have communicated their preferences, it's easy to give them exactly what they're looking for when they're looking for it. Anyone with a mouse can create groups, assign site visitors to them, and deliver content explicitly targeted to them across multiple devices. No coding or special expertise is required. Once you create groups, just use CommonSpot's scheduling, personalization and responsive design features to decide who sees what and how. Show registered users special offers, invite them to special events, or route them to targeted microsites. It's that easy.
Dynamically schedule and serve content based on group membership, no special skills or expertise required.
Use out-of-the-box dynamic grid and image support for responsive design.
Dynamically show/hide elements or display content based on link selection.
Easily create, manage, and administer groups of known or authenticated users
Authenticate securely through CommonSpot or through third-party services
View and change group members at a glance.
Create and maintain as many groups as you need and nest groups.
---
Screen Shots
Once you create groups, you can personalize the site experience using any CommonSpot content type, including style sheets, to deliver customized design and branding.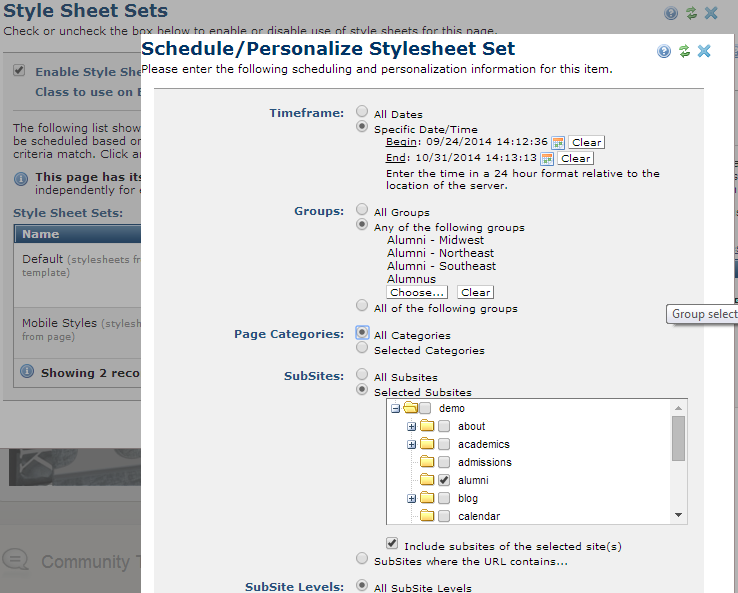 Anyone with a mouse can create and add members to groups and nest groups. Conveniently manage groups and group members from a central dashboard.