It's hard to find what you're looking for, when you're not sure what you're looking for. That's why CommonSpot includes the option to create navigation using information facets. Facet-based navigation lets web searchers browse the structure of your taxonomy-organized content, while filtering out irrelevant information to refine results. Visitors experience a logical, natural, and educational path to information discovery. 
Just point and click to add facet-based navigation to your site. CommonSpot's Facet Navigator includes a breadcrumb element to indicate location within a facet, a term-selection list that displays narrower terms based on current selection, and a results list that shows all relevant documents as you move up and down the information hierarchy. You decide which taxonomy to use and which facets to display for navigation. You can select all or a subset.
Get complete taxonomy management right out of the box, with point and click term editing
Easily add facet-based navigation and define "broader than" and "narrower than" relationships between terms. 
Rapidly assign content to terms.
Use counts to quickly scan the number of documents under each term to quickly refine choices.
Use layout, properties, and customization options to completely control navigation look and feel.
ANSI Z.39 standard enables the definition of taxonomies that meet critical business requirements.
Use the taxonomy API to programmatically access terms and relationships to build unlimited custom interfaces to related content.
---
Screen Shots
Use out-of-the box features to easily add facet-based navigation to your site.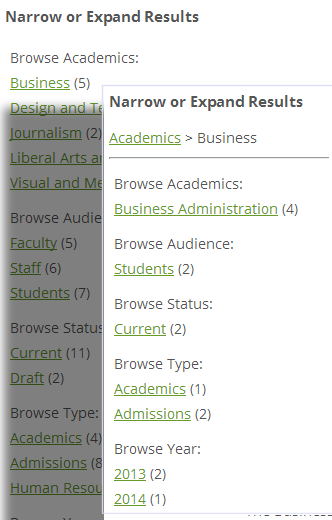 Anyone with a mouse can select a taxonomy and specify which facets to display in the navigation. CommonSpot gives you complete creative control over presentation.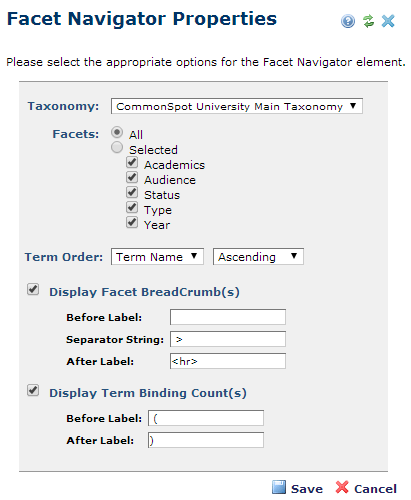 Filtered by Academics > Business and Audience > Students returns 2 documents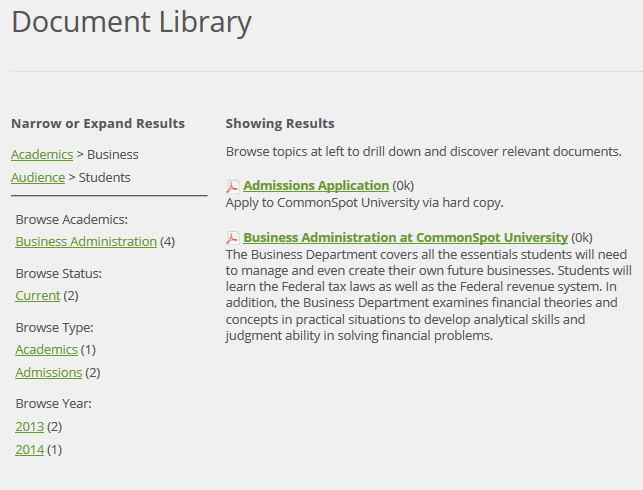 Filtered by Audience > Faculty, Type > Human Resources and Year > 2013 returns 4 documents.