CommonSpot integrates with Solr, a highly scalable, open-source search engine that provides advanced full-text searching for web pages and uploaded documents (Microsoft Word, Adobe PDF, etc). Page data is first indexed into a collection — a set of files and file metadata optimized for searching. This architecture enables you to assign sites or subsites to specific collections for improved performance and search relevance. Manage search functionality on a collection-by-collection basis: enable or disable automatic indexing, choose collection inheritance, and include or exclude expired pages from your search indexes.
A central dashboard makes it easy to create, view, assign, and remove search collections and regenerate or optimize in a single click. CommonSpot includes a customizable full-text search and search results object for adding search to pages and templates — no coding required.
Easily configure advanced, open-source full-text search for site pages and uploaded documents.
Manage search through collections for better performance and results relevance.
Index pages automatically as they are published, manually index, or index on a scheduled basis.
Make collection settings inheritable or configure separately.
One-click search collection creation, optimization, and management.
Point and click to create customizable search forms and search results pages.
---
Screen Shots
CommonSpot automatically checks and configures full-text search on install or upgrade and provides a utility for checking search service anytime.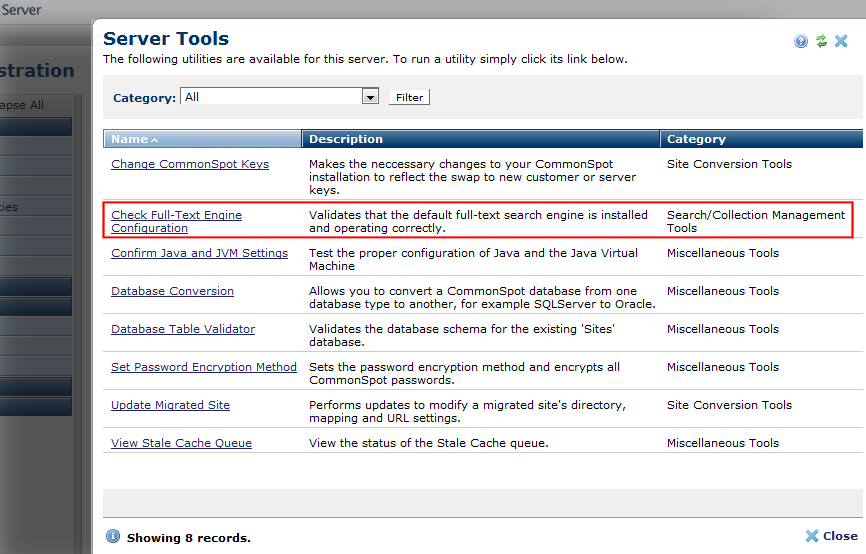 View collection usage at a glance. Point and click to add, remove, run, and optimize search collections.