Understanding what your customer wants, and giving them relevant content is critical to digital marketing success. CommonSpot makes marketers more effective by giving you complete control over targeted content delivery, even when you don't know who your site visitors are.
In addition to serving targeted content to authenticated or known site users, you can dynamically group visitors based on browsing behavior or preferences to easily create persona-based content strategies for your site. Pick from a dozen popular out-of-the-box conditions to qualify prospects, or create your own custom criteria to automatically add anonymous visitors to context-based groups. Then use CommonSpot's powerful scheduling, personalization, and responsive design features to select and dynamically serve content.
Dynamically group anonymous visitors using criteria you define.
Select from popular out-of-the-box options including website activity, area of interest, content viewed, search terms used, form conversions, and more, all with a few clicks, no special skills required.
Easily add your own custom criteria to create visitor context groups.
Easily add or subtract conditions, to deliver a highly sophisticated user experience while collecting valuable browsing information.
Dynamically serve content targeted to self-selecting group members.
Use out-of-the-box dynamic grid and image support for responsive design.
Maintain visitor context groups on a per-session basis or persistently through multiple site visits.
Use one-click simulation to preview what the visitor experience and fine-tune your programs for the best possible results.
Centrally manage visitor groups and rules.
---
Screen Shots
Easily set conditions for serving audience-specific content to anonymous users.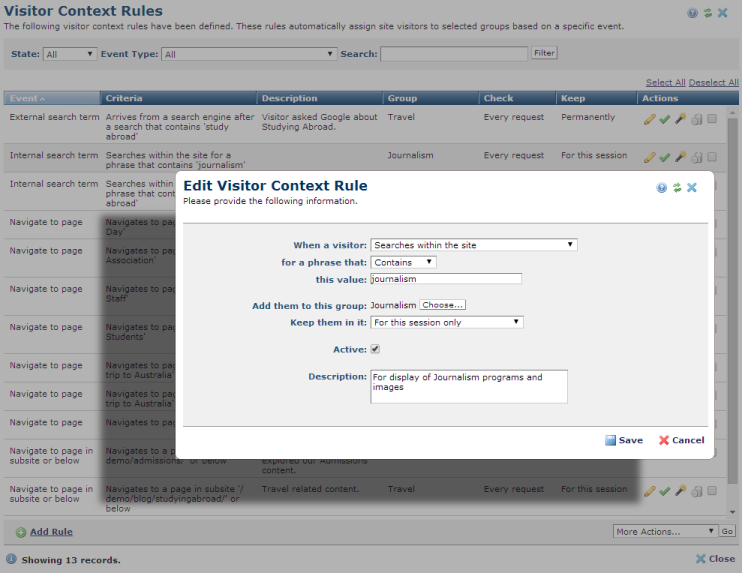 Pick from a set of popular standard options or easily add custom conditions to automatically group visitors.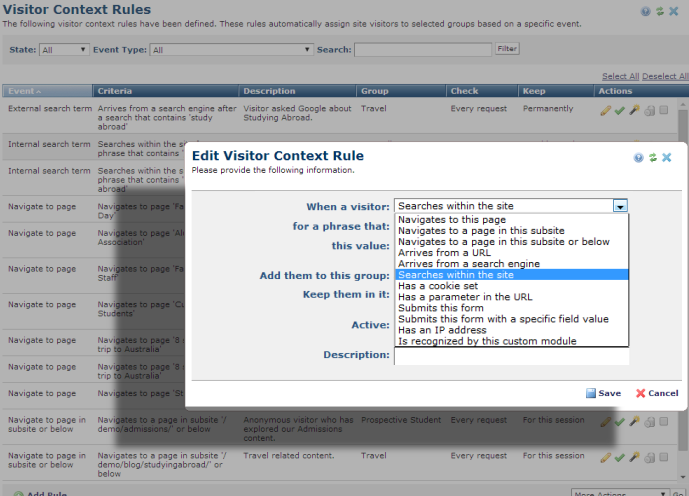 Once you create groups, you can personalize the site experience using any CommonSpot content type, including style sheets, to deliver customized design and branding.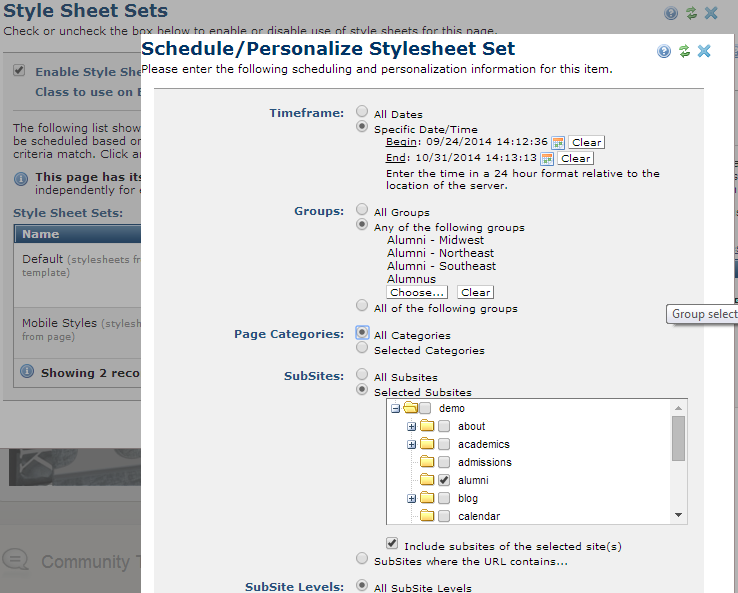 Preview the user experience you create before you publish, and conveniently manage visitor context groups and rules from a central dashboard.