Study after study shows the same thing: most visitors use search. CommonSpot supports both proprietary and open source full-text search, including native support for the popular Apache Solr search engine, to give your site the best possible performance and your visitors the best possible experience. Solr's distributed indexing and replication features deliver a high degree of reliability and scalability to make it the solution of choice for enterprise search service.
With tight Solr integration, sites get rich-text handling for indexing PDF and Word documents right out of the box — no need for custom add-ons. At the same time, Solr's cross-platform and open-source plugin architecture and improved database integration make it easy to customize and tailor it for multiple applications and specialized search. Sites can deploy Solr in a standalone or cluster configuration.
In addition to native Solr integration, CommonSpot includes a search engine API that allows for schema extensions, to enable support for other search engine solutions.
Get highly scalable, reliable search performance out of the box with native Solr support.
Run Solr under Lucee or ColdFusion.
Full-text search for PDF and Word documents, no add-ons required.
Point-and-click search collection indexing, optimization, and management through CommonSpot.
Search API for integrating other search solutions.
---
Screen Shots
Choose the Search Engine for your site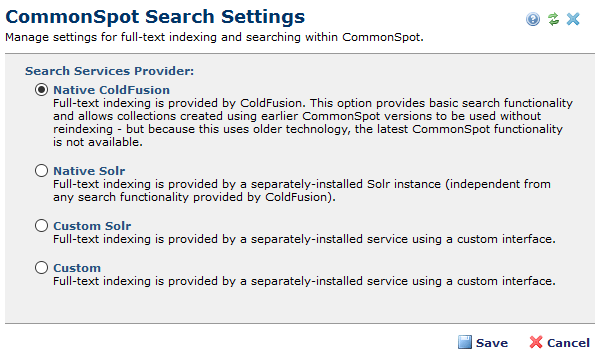 In addtion to native support for Apache Solr, CommonSpot includes documented API methods for integrating the search engine of your choice.