Managing access control for large numbers of users can get pretty complicated pretty quickly. CommonSpot simplifies creating and tracking user privileges through advanced group management designed to forward best practices for managing user security assignments. CommonSpot's nesting features make it easy to assign permissions to roles rather than individual users, allow access rights to inherit whenever possible, and minimize the number of items that contain access right definitions. There is no limit to the number of groups you can contain within other groups.
Quickly add individual users or groups of users to those already defined for your site. Privileges automatically trickle down to new members. When it's time to change, change once. Create and update groups and manage memberships from an easy-to-use dashboard. Filter by name, description or group type and easily keep group membership up to date. CommonSpot includes features to view nested group members and check for expired users in a single click.
Simplify security assignment and management with advanced group and nested groups features.
Assign roles and permissions at the group level to trickle down to groups and nested groups and individuals.
Easily view and change group members and quickly view and remove expired members.
View group membership information everywhere you manage individual rights and permissions.
See direct and indirect memberships.
---
Screen Shots
Easily add individual users or groups to other groups. There is no real limit to the number of groups you can include within other groups.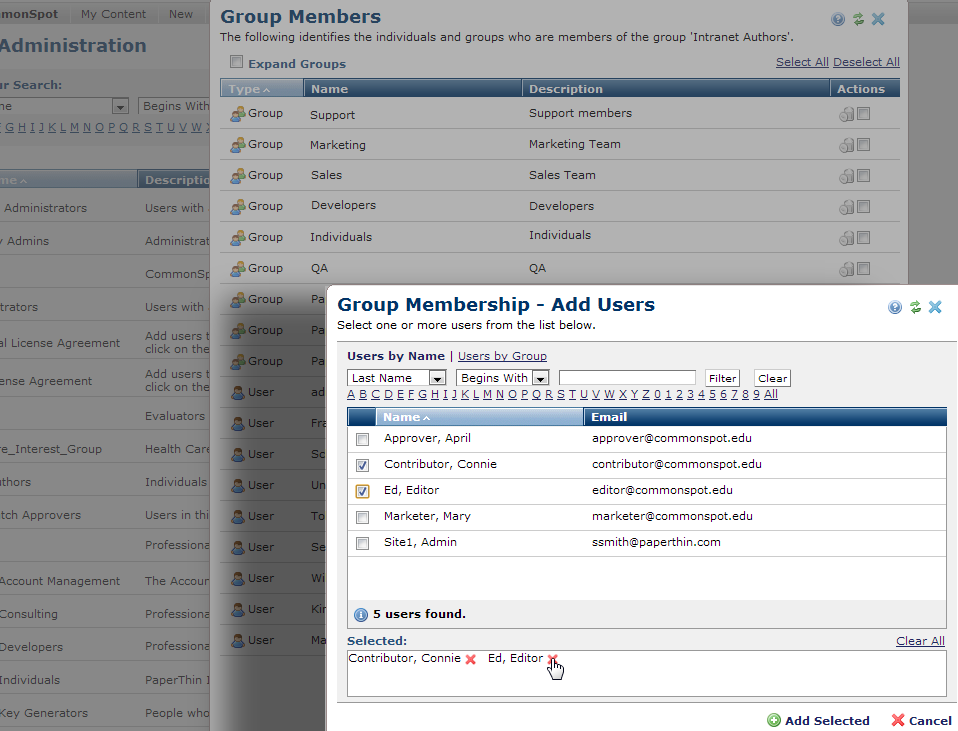 Assigning roles and permissions to groups automatically includes all members and nested members.

View group memberships anywhere you manage users. CommonSpot reports direct (primary) and indirect (nested) membership.