Managing users and groups within a web CMS can be time consuming and tedious. CommonSpot's object-oriented architecture and powerful group management features simplify this process to save your organization time and resources while making it easy to personalize the user experience.
All user information is stored in a single database to manage data for individual CommonSpot users, their profiles and passwords, as well as group membership information. The flexible and secure role assignments available through this design allow multiple individuals to contribute to content creation and management in a shared environment with greater efficiency and without risk of overwriting or data loss. Support for popular databases and custom authentication maximize access to existing user directories when needed.
This architecture also makes it easy for universities, associations, and businesses to provide "registered-user-only" access for viewing or downloading audience-specific content. Scheduling and personalization features give your team all the tools they need to selectively serve content to authenticated users and groups. CommonSpot also includes special Visitor Context features for grouping anonymous visitors and delivering content based on browsing behavior and other criteria you define.
Centralizing roles and permissions through group assignments and nested group features makes security management easy.
Easily create new user accounts and add users to groups.
Efficiently manage roles and permissions through group assignments.
Assign user and group permissions and manage inheritance at the subsite, template, page, and content object level.
View all users and groups at a glance and easily change roles and memberships in a couple of clicks.
Switch between group and user views when assigning rights to content objects anywhere in CommonSpot and view or change group members anytime.
Conveniently view content owned by individual users or groups and easily reassign when necessary.
Use built-in features for separately managing dedicated or shared CommonSpot contributors.
Easily schedule and personalize content for both authenticated and non-authenticated users and groups.
---
Screen Shots
Anyone with a mouse can view, create, and add members to groups. Expand subgroups to view nested group members in a single click.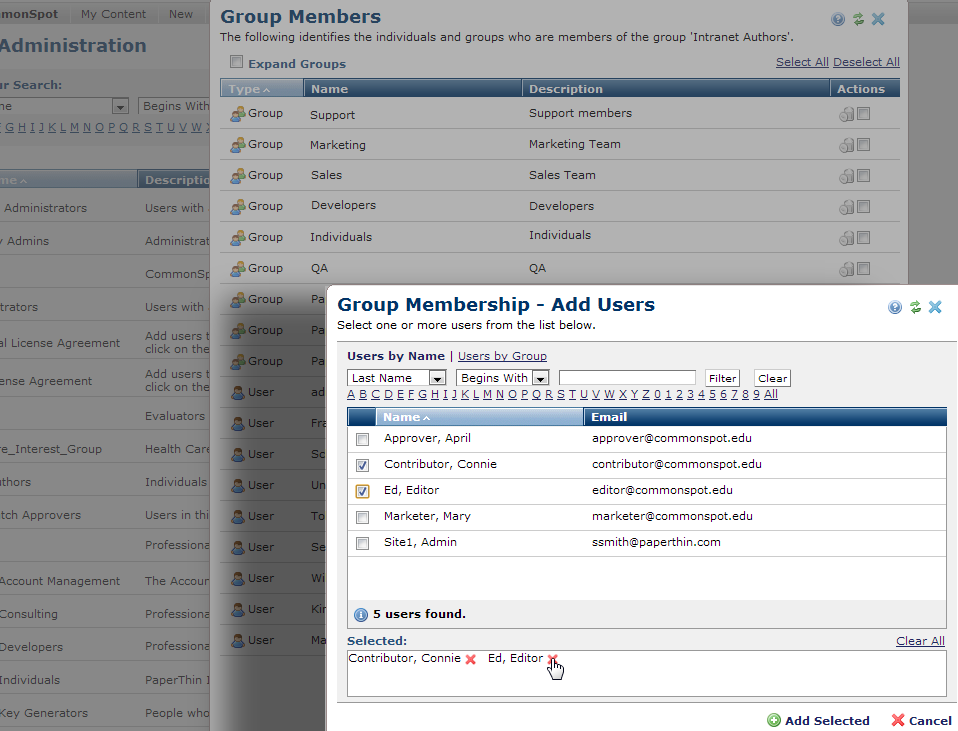 You can assign subsite, template, page and custom object rights to individuals or group members.

Other features let you automatically group anonymous users based on Visitor Context - browsing behavior and other rules that you define for personalizing the visitor experience.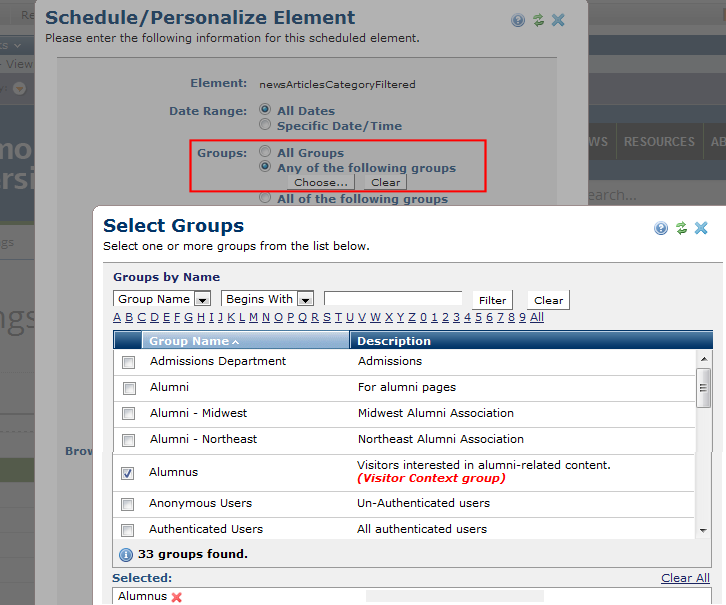 CommonSpot has separate facilities for managing CommonSpot contributors.