The ability to quickly gauge and change page performance is critical to program, campaign, and site success. Also important is the ability to easily replace or restore content when necessary. In addition to many other optimization and reliability features, CommonSpot maintains complete version history for your pages, images, multimedia, and other content objects, with advanced tools for managing and comparing versions and analyzing results.
A dedicated Page Versions left pane is available from any CommonSpot page for quickly viewing version and comment history. You can choose a specific version of the current page, review version comments, and select versions to compare. CommonSpot's Visual Difference tool highlights additions, deletions, and updates in red-line or side-by-side WYSIWYG mode to make it easy to track changes, and roll back when necessary.
CommonSpot also integrates page versions with Google Analytics for quickly evaluating visitor response to changes, and with reports, for viewing and comparing on the fly.
Complete version history maintained for pages, images, uploaded documents, and content objects.
Easily compare and replace or roll back
Page Versions left pane for selecting and comparing versions.
Visual Difference tool for red-line or side-by-side review of page changes
Configurable reporting period for versioning
Compare versions on the fly from My CommonSpot reports or individual page Elements
Integrated with Google Analytics for comparing response to page versions
Brightcove and YouTube file management
---
Screen Shots
View available page versions from any page, and pick two versions to compare.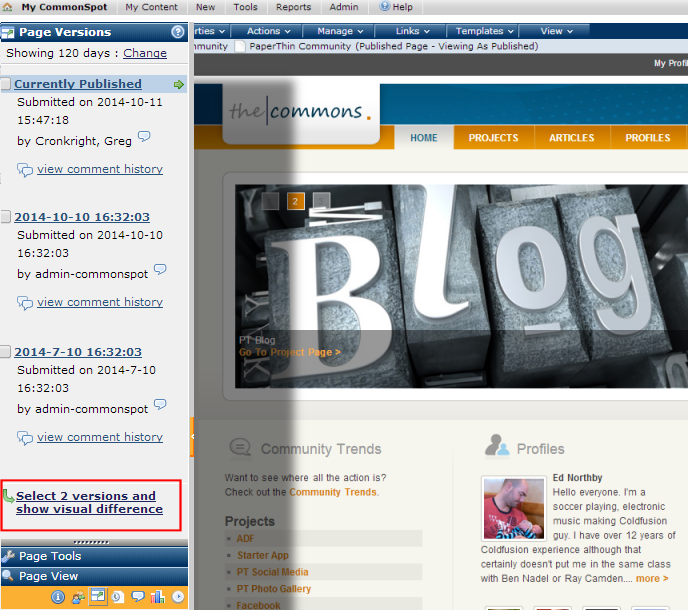 View differences visually in a single click. Red-line highlights changes in familiar word-processing notation.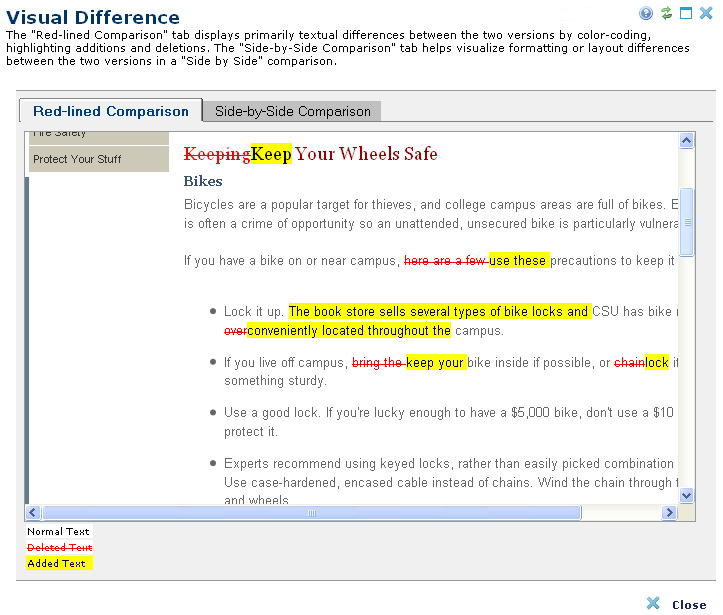 Uploaded documents can have versioning, too. Modify the version from any Report or link to the document.