Brand Management in an Increasingly Digital World
Nov 13 -
If your brand is the collective perception—good, bad or indifferent—that exists in the hearts and minds of your community, then the ownership of how well you communicate your brand is more critical than ever before.  It's no easy task with the popularity of social media.  The days when good branding was once about look and feel are gone.  Today, brands must also communicate consistently across a multitude of digital channels (web, mobile, social), provide experiences that engage consumers across those channels, and must be good listeners and respond quickly via any channel that a customer uses to communicate.  How well you communicate with your community, respond to them, treat them, engage them, and yes, visually stimulate them all affect brand perception.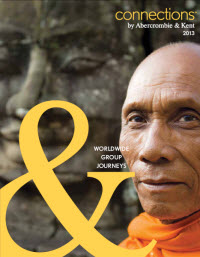 Abercrombie & Kent is a luxury travel brand that puts its customers at the forefront of everything they do. Its website (www.abercrombiekent.com) is at the top of a short list of my favorites.  It's visually stunning, easy to navigate, and always has new and interesting content about exotic locations and adventures that I can only dream of taking.  What I really like is that A&K extends that experience to various channels which I like to frequent (Pinterest, Facebook, YouTube, Twitter).  Whether the first touchpoint is via mobile device, website, or social media, A&K strives to express the brand consistently and in a way that engages would-be customers from hello.  That, my friends, is good branding.
Abercrombie & Kent uses CommonSpot to manage its brand via the Web by providing rich, organized, and dynamic content and presenting it in a simple and elegant way that doesn't overwhelm users.  Users are greeted with clean lines and color schemes, easy navigation, consistent page layouts, and stunning images—all managed and controlled by marketers.  The editorial content that A&K is known for is created and uploaded by destination managers from all corners of the world with controls in place so A&K can trust that no matter when a manager uploads information, it will always be consistent with A&K accepted styles and never upset the brand.  
In the below video, Abercrombie & Kent's Steve Filipiak joins Tyler Pybrn from The Pulse Network to explain how CommonSpot enables a user friendly, visually appealing brand for all Abercrombie & Kent customers.