A Website Cocktail
May 24 -
How do you make a website great? Ask a different person and you will get a different answer. Interactivity is huge.  Design, branding, personalization, navigation, and so on—all are of equal importance. But a well designed and easy to navigate website alone won't drive new business, optimize your site for search engines, help you communicate with customers across multiple channels, or drive leads.  It's not the glass…it's what's in it that counts.  A pretty glass with nothing exciting in it is meh.  Fill the pretty glass with gin, tonic, ice, a clove, a few halved kumquats, and a basil leaf and now it's getting interesting.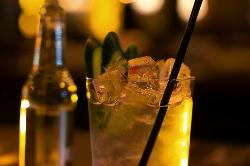 Similarly, plain old content by itself is boring.  A few fresh twists on your content make it more interesting. This blog post, for example, talks about the power of web content.  That in itself is blah.  But frame it with a cocktail analogy and now I've piqued your interest. Add a drool-worthy image to support your content and you've given your site visitor an emotional response. Add a short video clip on 'The Gin & Tonic Reconstructed' and now I've got you hankering for a gin and tonic. Add a very special gin and tonic recipe they can download, and you've got a lead. Add See-Also references on topics related to gin and tonics (gin, mixology, perfect summer drinks), and you take visitors on a journey that they might not have wanted to take before—plus they now think your site is a great resource to refer back to from time to time. If they click on a See-Also reference—or any other page for that matter—deliver an ad promoting a webinar you know they'll be interested in on 'Unleashing the Tastiness of Gin—a Mixologists Perspective'. That's the recipe for making a great website. 
Your web content experience management system (WCXM) is the tool that will either help or hurt your efforts to achieve website greatness, so choose wisely. Following is a checklist of some of the features you'll need to get there. And yes, CommonSpot has them all.
Roles & Permissions
Video Management
Social Media Management
Personalization/Contextualization
Dynamic, self-updating content
See Also references
Image Management Gallery
Don't forget the gin and tonic recipe I talked about...it's perfect for Memorial Day Weekend. 
Cheers!