Building Community is Critical for Success in Today's Business World
Nov 20 -
If you are not empowering your loyal fans to toot your horn for you, then you're missing out on a whole lot of opportunity. The fact is, consumers are more influenced by the people they know and trust than they are by brands—no matter how good a story your company tells.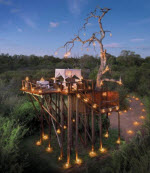 Just this morning, a friend posted an amazing photo on Facebook of a South African tree house safari lodge he visited that had me yearning to go there. I am a traveler and a bit of an adventure junkie, so I went to the website and pored over stunning photos and videos, and checked out the prices.  If my wallet was a little thicker I might be booking a safari now.  The point is, there are hundreds of safari lodges out there to choose from with glossy photos on their websites—but I may never have come across this one if it weren't for my friend who shares my affinity for adventure.
Awareness in all digital channels—whether Facebook or Pinterest or
YouTube—is how you will reach your next consumers. Your
community
of fans will build brand awareness
for
you, create endorsements and recommendations
for
you, and help spread your story and overall message to the masses. The question you're asking now is...  
How do I build that community for my brand?   
Abercrombie & Kent (a luxury travel company and PaperThin customer) has built a highly successful digital community by giving customers the types of content they want to see. On a recent trip in Uganda for example, one very lucky A&K traveller had an amazing encounter with a band of wild gorillas. Another customer caught the experience on video. That one video, shared on social media by a fan of Abercrombie & Kent, gives would-be consumers an authentic glimpse into what an A&K experience is like driving new business for the company—and with over 4 million views to date—immeasurable brand awareness as well.
The following video perfectly illustrates how you can make your Community your greatest brand advocates.  In it, Steve Filipiak of Abercrombie & Kent explains how he harnesses the power of social channels by giving the A&K community the content they want to see, and enabling them to share it socially using CommonSpot. 
Learn more on how you can advance your digital marketing by building Community and empowering them below: